Did you know that 77% of ROI from email marketing came from segmented campaigns in the year 2015?
The importance of customer segmentation (list segmentation) can never be stressed enough. You can have wonderful email marketing campaigns, but if they are not targeted to a certain section of your customer base, then they lose their value.
It's all about being innovative with your email marketing campaigns. Customer segmentation allows you to launch creative and effective campaigns that target a very specific set of customers in your customer base.
It all boils down to what information you are able to gather from your leads and how you can effectively convert this information into opportunities to serve your customers better.
What is Customer Segmentation?
Customer segmentation is the process of classifying your customers into different groups based on various characteristics and buying behavior. It helps you to gain a better insight into who your customers are and about the things they like. This, in turn, will allow you to create better products, marketing campaigns, and eventually increase sales.
What are the Benefits of Segmentation?
These are the benefits of segmenting your customer:
1. Customer Segmentation Helps Personalize Your Messages and Services
Personalization means creating a message to fulfill someone's personal needs. Personalization is one of the keys for targeted marketing and sales campaigns.
Customer Segmentation is done to recognize your customers. It helps you know what each of them likes, so you can create better messages and CTAs for every single one of them. This, in turn, will result in more conversion since personalized Call to Actions can perform 202% better than generic Call to Actions (Hubspot)
It isn't only about your messages, but your service as a whole. With segmentation, you will be able to make personalized product recommendations, reminders about a wish list, discounts, offers, helpful content, etc. All of these will help improve your customer experience.
2. Segmentation Helps with Customer Retention
Did you know that in general, 60% of a company's business comes from existing customers?
Furthermore, the probability of selling to an existing customer is 60%-70%, while the possibility of selling to a new customer is only 5% to 20% (Source).
You see, all the successful companies in today's world have been focusing more on customer retention more than acquisition.
This is because investing to keep your customers with you is cheaper and more beneficial to you in the long-term rather than spending your efforts on impressing new people. According to reports, a 5% increase in customer retention can increase a business's profits by 25% and 95% (Smallbizztrends)
Customer segmentation lets you create better strategies for customer retention.
3. Customer Segmentation Improves Brand Awareness
As you segment your customers, your messages and your campaigns will become more personal. Furthermore, as you will know what different people need, you will be able to sell products to cater to all of their needs.
For example, say you run an automobile store. If you can segment your prospects based on their location, family, or even income, you will be able to send better emails and CTAs with content that will be helping them. For instance, you can send emails with information of the best budget cars to people with lower to medium income mark.
As your content and campaigns become more useful to the people, it gives out a message that you care about them. This will increase your brand authority, and people will be more aware about your existence.
4. You Will Create Better Ads with Customer Segmentation
Customer Segmentation will let you know what ads to create, and whom to show your adverts. This will become especially helpful with retargeted ads.
The truth is that it is very difficult to convert first-time ad viewers. 92% of people enter a retailer's website for the first time to do something else other than buying (Source). Customer segmentation will let you target these people, and finally, make a sale.
One way to do customer segmentation is depending on the behavior and the actions of people on your website.
You show different ads to different customer segments. For example, say a person opened your ecommerce site, viewed a product, but didn't make a purchase. Then, for people like this, instead of advertising how great your product repository is, you can promote the particular item they viewed.
What are the Types of Customer Segmentation?
Here are 8 types of customer segmentation you can do that will allow you to understand your customers better and create more personalised email campaigns. Although some of them can work well on their own, you can combine different types of data and make even better campaigns.
Type 1: Customer Segmentation Based on Geographical Location
Dividing up your contact list based on where your customers or leads are located geographically is very useful in many ways.
If you are a local business, it would let you know where your customer base lives so that you can send specialized offers to those who can walk into your store.
If you are a multinational business, you could send out different offers to people living in different countries. That way your discounts or offers will be more personal to them and they would be more inclined to purchase from you.
Remember, people's values, preferences, interests, and needs can vary considerably in various locations. You will need to serve your customers differently depending on where they live.
A customer segmentation example based on location would be of the popular fast-food chain - McDonald's. They have different menus around the world, depending on people's familiarity with different tastes.
Photo- McDondald's USA Vs. McDonald's India Menu, a good example of segmentation based on location.
Type 2: Customer Segmentation Based on Age
These days, everybody has access to the internet. A lot of people sign up to newsletters randomly at times, so having people on your list that do not fit your ideal customer profile could hurt your email marketing metrics.
If you are targeting an audience who is of a particular age, then it would help to write emails that are specifically meant for them and that resonates with them.
For example, for a salon, sending young millennials a list of trendy urban hairstyles is more practical and viable than sending similar emails to the elderly.
Type 3: Customer Segments Based on Gender
If your products and services are directed towards both genders, it would be helpful to target your emails for each section.
For instance, if you own an ecommerce site, you could put in images and product recommendations that are more appealing to a female audience when you send your email campaigns to them.
Type 4: Based on Customer Profiles
Target customer profiling is a very effective way to learn more about your target customers and market your products and services to them effectively.
What you create a target customer profile for each type of customer you have, you will be able to segment them better and send them more personalized email campaigns.
Find out what the pain points of each target customer profile are. What are they struggling with and what do they use your products and services for?
Sending the right emails to the right customer profiles will help improve your click-through rates and build trust with your customers.
A segmentation example based on customer profile would be of an electronics store showing advertisements of budget-friendly smartphones to people with a lower or middle threshold of income.
Type 5: Based on Type of Organisation
If you are a B2B business, you need to see what types of organisations are interested in your products or services.
Are most of your email list subscribers non-profit companies? Or are they small businesses and startups? Segregate your list according to which type of organization they are so that you can customize your offers and email copy to each type of organization.
Type 6: Customer Segments Based on Purchase History
The information you have on your customer's past purchases can be used very strategically to plan out your email campaigns.
Customer segmentation based on purchase history gives you an insight on what products your customers are interested in, and you can send them targeted emails regarding similar products that they would like.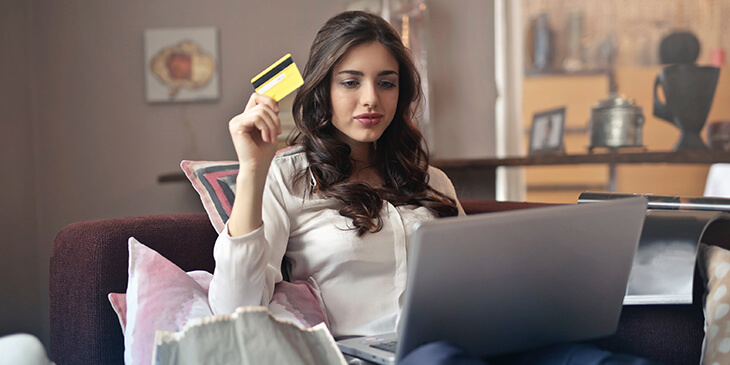 Not only will this strategy improve your open and click-through rates, as well as your sales, but it will also show your customers that you truly care about their interests. It will also help your customers discover new products they might like, without the trouble of having to go through your products list to find them for themselves.
For example, a customer who recently bought a sofa may be interested in cushions that go with the furniture.
Type 7: Customer Segment Based on Interests
Another significant way in which you can segment your customer base is by looking at their interests. You can use forms, call-to-actions, lead magnets, or even blog posts to find out this information.
Once you have separated your customers into various segments, you can then only send relevant information that they would be interested in.
Always remember that you are competing with tons of other email marketing campaigns from different companies on an everyday basis. When your customer's inbox is drowning in emails, they would be more likely to only click those emails that spark their interest.
Figuring out what your customers like and what they want to learn more about will help you to target them and serve them better.
Type 8: Customer Segment Based on Loyalty
You will notice that a few of your customers are always purchasing something from your business or are referring other people or businesses to yours (through referral programs, if you have them).
Consider them to be you biggest brand ambassadors and treat them as such. Segregating you most loyal customers will allow you to target them through special email campaigns.
Send them special loyalty coupons or offers that they would enjoy. Customer loyalty is very crucial for your business, so you need to reward this kind of loyalty.
These are just a few ways you can do customer segmentation for your ist. We hope that this list inspires you to figure out better and more useful ways in which you can segment and target your customer base.
Conclusion
Customer segmentation will greatly improve the quality of your campaigns and keep each member on your email list happy. Satisfying your customers will, in turn, lead to increased interaction and loyalty, which will directly improve your customer retention and sales.
There are many ways to segment your customers, and you can do it on the basis of location, interests, age, gender, purchase history, customer profiles, and the type of organization.
Irrespective of the approach you choose, you should aim to enhance the customer experience, which, in turn, will improve your brand awareness and revenue.