Source:Food navigator Asia
The internet marketplace is saturated with a high volume of search traffic for eCommerce stores. The hard reality is that with so many competitors out there fighting for a good place, chances are rare that they will return to your store in particular.
That is - unless you do something to make them come back.
Studies have shown that eCommerce sales are continuously expanding around the globe as more and more people have started shopping online.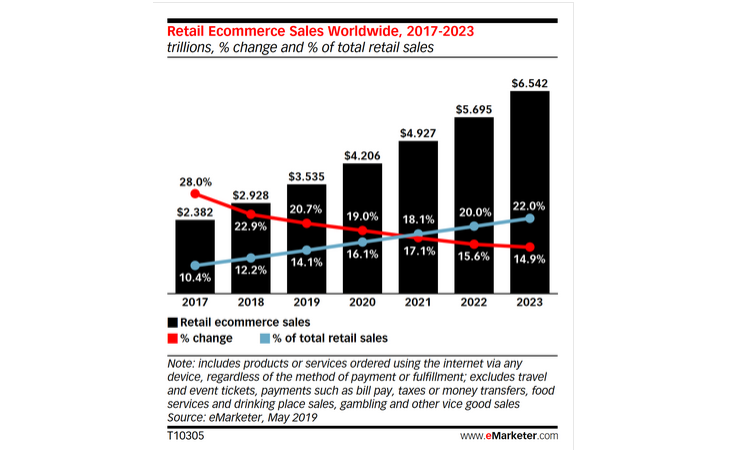 Source: eMarketer
Marketers can leverage the power of emails by building an email list and sending compelling messages in a way to retain your existing users and by creating and growing your subscriber list.
If you have not yet thought of investing in ecommerce email marketing, you are merely letting your marketing budget flow out into the drain. The power of email marketing is so immense that you could easily capture your visitors and turn them into life long customers.
Wondering how?
Studies have shown that it takes five times the marketing budget to attract new customers than to keep the existing ones.
What is ecommerce email marketing?
This is a marketing strategy in which marketers use emails to promote the products of an online store to their potential or existing customers.
By using emails, advertisers can strengthen the relationship between clients and customers. You might have noticed that while ordering any products online, you will get a confirmation email.
This could be considered the lowest segment of ecommerce email marketing.
Email marketing can interlink with other features of online marketing such as social media, blogs, websites etc. Ecommerce marketing can also include promotions of sales, newsletters or other exclusive deals for the subscribers.
The benefits of Ecommerce email marketing include:
1. Effectiveness as a communication channel- This is because more than 90 percent of your customers check emails on a day to day basis.
Souce:Experian marketing services
2. It cannot be deleted- Social media accounts can be deleted any time. On the other hand, email services are exclusively available to users.
3. Extremely high conversion rates- It is a well-known fact that email marketing has a high conversion rate when compared to other forms of digital marketing; up to 4,400% of ROI.
Ecommerce email marketing statistics
Let us take a closer look at what the stats and figures have to say.
10 Email marketing campaigns to use
Following are some of the most useful email marketing campaigns that you need to use as a part of your ecommerce business strategy.
1. Welcome emails
The incredible thing about this type of emails is that it has a fantastic open rate.
This will present your ecommerce company to have an excellent first impression. When you create a strong start with a potential customer who is signing up for the first time, the follow-up campaigns can give an even better impact.
Souce:Smartermail Trends
Welcome emails are a fantastic opportunity to thank your subscribers and set expectations on what is to come. Some companies reward their new subscribers by sending discount coupons which create a positive impression on their customers.
Following are some tips for creating welcome emails:
Give your viewers something which they are not expecting.
Thank them for signing up.
The design should be simple and easy to understand.
2. Product feedback messages
For any ecommerce brand, feedback is the key to improving your services. However, most people won't bother to give any product reviews after purchasing.
Souce:Kayako
Sending a review request through email is a great way to get feedback.
Feedback helps to ascertain the quality of services and products that your company has to offer.
It also helps the users to know that you value their opinion.
3. Discount email
The age-old strategy of providing discounts can be used to increase the number of conversions.
Souce:Instapage
By sending emails which announce discounts, you could gain better attention from your customers. Studies have shown that 54% of shoppers are most likely to purchase abandoned products if they're offered again at a discounted price.
A study done by VWO found that over 72% of Millennial shoppers are open to retargeting through discount emails.
The American meal delivery service Blue Apron, regularly offers discounts to their subscribers to encourage more purchase.
4. Confirmation emails
One of the most important steps before sending emails to your customers is to get their consent.
Souce:Pinterest
People absolutely hate spam messages.
Through an email confirmation, you are not only cross verifying the subscriber's consent but also making sure that the email of that particular customer can be included in your mailing list.
This also helps you to have correct metrics of conversion rates.
5.Thank you messages
Sending emails thanking a subscriber is a great way to build a personal connection with him. The truth is that people just love hearing the word, thank you.
This not only shows goodwill, but is an excellent display of good manners as well.
Souce:Marketing land
You can exploit the power of thank you emails for pretty much everything.
Say, for example, if it is your company's anniversary, you could send out an email thanking the person for being your valuable customer in your journey.
You can also share some freebies along with this email.
Make sure that while sending thank you emails, you do not use it to sell any of your products.
6. Holiday emails
Holidays are important occasions to send your best wishes to the subscribers.
Souce:Perfect patients
You can also make use of this opportunity to announce important events or offer discounts, as people will usually tend to buy themselves new stuff or present their loved ones with some gifts.
7. Newsletters
With so many different types of email marketing strategies out there newsletters are one of the most popular. They have a unique charm of luring the customers again and again to your online web stores.
Souce:Hubspot
Several ecommerce companies run blogs, and every week newsletters are sent back to the subscribers. Regular readers are tempted to visit the site and chances are high that they will prefer your store for any purchase of their choice.
8. Referral Email
Studies have shown that word of mouth is one of the key influencers in the purchasing decision of the people.
Souce:Referral candy
In another survey done by Ogilvy, over 74% of customers identify word of mouth as a key influencer in making a purchasing decision. Sending referral email requesting the customer to refer their friends or families is a great way to nurture free leads.
9. Cart Abandonment Email
Let's imagine a scenario in which one young lady is shopping for a set of new goggles. Before she is about to hit the purchase button, all of a sudden she gets a phone call from her manager and forgets to complete the shopping.
Souce:AB tasty
Studies have shown that 69% of all e-commerce visitors abandon their shopping cart. 61% of visitors claimed shipping costs as their number one reason:
The graph below shows the top reasons for global cart abandonment.
Souce:Statista
The good thing is that you could remind your customer by sending an email to finish the purchasing process. Many times this has found to be really useful in completing the sales funnel.
10.Survey email
Survey emails help to gain significant insights into the goals and desires of your customers and give you an opportunity to improve your email marketing.
Souce:Get feedback
By regularly asking our customers what they are looking for, you can streamline your ecommerce business to give your customers exactly what they are looking for.
11 email marketing best practices/tips
Following tips are guaranteed to create a success out of your ecommerce email marketing campaign:
1. Understand your audience
Knowing your subscribers is one of the most important and crucial steps while starting with your marketing campaigns. The emails which are sent to your customers should entice their interests. This is possible only if you know your target audience very well.
Every subscriber on your list is unique in their likes and perspectives. This is the reason why you cannot send a standard email to all your customers on your list.
Studies have shown that an email custom-tailored for the recipient drives 18 times more revenue than that of general emails.
Now you must be wondering how to make it possible?
You can do that through email list segmentation where you divide your email list into several sub-target groups.
This makes it possible for you to target your customers based on their preferences and have a more personalised approach.
Let's say, for example; you are in the business of selling smartphones. You could ask your subscribers about the personal preferences of their phone such as brand, specification, price range etc.
Depending on their preference, you could segment your email list based on their unique needs.
Another effective way of segmentation is based on gender, age, geographical location etc.
The graph below shows the positive impact of email segmentation.
2. Keep your emails short and crisp
Let's suppose; you send a nicely crafted email excellent enough to catch viewer attention.
Your subscriber opens the email but somehow loses his attention and before you know, he closes your email.
While creating an email for your ecommerce web store, you need to ensure that it is crisp and concise to retain the attention of the reader.
In this case, the whole idea is to make the reader aware of the offer. Do not fill in too many details but instead provide a link to your website where they can click and check out various offers themselves.
By keeping your emails short and crisp, you will get a better response from your campaign.
Another thing that you have to keep in your mind is that as more and more people are accessing emails through mobile devices, it is vital to keep it mobile-friendly.
Remember you are trying to reach to people who don't have enough time. Here are some of the tips by which you could keep your emails short without miscommunicating.
Convey your message directly and avoid beating around the bush
Make sure to use lots of bullet points and highlight wherever necessary.
Make sure to include only one call to action instead of multiple ones.
3. Send consistent emails
In s research done by Statista, more than 44% of the people tend to check their emails 1-3 times daily.
Therefore, it is important to make maximum effort to make use of this opportunity to send regular emails to your customers and tempt them to purchase your products.
4. Make a catchy subject line
You might have often noticed that people tend to skip reading emails that don't have an attractive subject line. This is the first thing people notice when an email arrives in their inbox.
No matter how much time you have invested in crafting out a perfect marketing email, it does not count unless the user opens the email. For marketing your ecommerce business, you need to give immense importance to this, just like the main heading of your email.
Some of the essential things that you have to keep in mind while creating a subject line are:
Questions and numbers are known to grab a higher opening rate; however, make sure not to confuse your readers.
Have an emotional connection with your readers as they will enjoy reading the emails. Keep the subject lines natural and straightforward to make it appear that they are receiving an email from a real human being and not an automated computer.
Try to avoid a longer subject line and keep it as short as possible. Studies have shown that the optimum length should be 6 to 10 words. When a subject line is short, it has an opening rate of 21 per cent.
Add a pinch of humour to your subject line.
5. Personalise your email
Marketers can leverage the power of personalization, to make your subscribers unique, which will significantly enhance the chances of conversion. Studies have shown that by personalizing your emails, you have a higher chance of opening.
The graph below shows the marketing email open rate in the US in 2016.
Souce:Statista
Some of the key points which helps in personalization are:
Make sure not to use your subscriber's name more than twice as it may sound unnatural.
Try not to misspell the name of your subscriber.
Ask your subscribers whether they would like to be addressed by their nickname or by their first name.
6. Do a split test for your emails
Here multiple versions of the same email are created and tested (A/B testing) on a segmented audience. This method helps to clear off the guesswork and shows you a roadmap on what all changes do you have to make.
By testing out different versions of your ecommerce marketing emails, you will be able to find out which works the best for your company.
Benefits of split testing your emails include:
Have a better clarity on what your customers want
Higher open rates when you know the right style of emails to target.
Greater conversion.
7. Add white spaces
While creating an email for your store, make sure to include sufficient white spaces to avoid visual clutter.
Keep your paragraphs short
Use lots of subheadings
Add bullet points wherever necessary
In some instances, you will have to send a more extended version of your article, in such a scenario it is better to give a brief introduction in your email and provide a link which will direct them to the main page where they could read more.
Scannable content works better rather than huge paragraph blocks which will improve the experience of the reader.
8. Create a dedicated landing page
In most of the emails sent for ecommerce marketing, marketers provide a link which will direct the user to the homepage of the store. But this doesn't necessarily lead to higher conversion.
On the other hand, if you can provide a specific landing page, it could be more effective.
While designing a landing page, make sure to incorporate the following elements.
A catchy headline which makes the visitor read further
Strong sub-headlines
An image or video to support the purpose
Testimonials of previous customers
A call to action button
Do ensure that the message you convey on your email should reflect on the landing page.
9. Try out different emojis
Let's admit. Emojis have a huge visual impact on the viewers.
Souce:Gte emoji
Studies have shown that brands which make use of emojis have seen a 56% rise in the number of opening rates. In a study done in 2018, it is found that the heart ❤️ is the most commonly used emoji.
The graph below shows the top industries using emojis.
Souce:Braze
10. Experiment with numbers and statistics
In a study done by YesWare, marketing emails that include numbers and statistics have an increased click rate and a positive influence on the minds of the readers.
Numbers give a substantial authority rather than vague promises given by subject lines.
Say for example lines such as "flat 30% off "etc. could guarantee an increase in your sales.
11. Repeat Your Successful Emails
If your email marketing campaign has given you good results, it is better to repeat it with your new subscribers who haven't made any purchase yet.
This will help you to:
Study your prospects &
Increase your sales
You can change some aspects of your email such as the wording, subject line etc. and try to retarget the mail.
Ecommerce email marketing examples from leading companies
Various top ecommerce brands have created inspirational examples that can be followed when it comes to using email marketing. Check out the following.
1. Amazon's Personalised Emails
Amazon's personalised emails are a "must follow '' example in the world of ecommerce. Their welcome emails, product recommendation emails (based on customer purchase data) and cart abandonment emails are worth following.
The primary things that Amazon focussed on was to create mails based on the buyer intent, and to send emails to multiple touchpoints.
2. Patagonia Welcome Email
Souce:optinmonster
Welcome email from Patagonia pops up in the inbox as soon as you subscribe to their mailing list. The company uses a unique blend of vivid imagery and attractive text to capture the attention of their subscribers.
3. Uber
Marketing email from uber tries to catch the viewers attention through beautifully crafted text against the white backdrop.
Souce:Easysendy
The company encourages users to use Uberpool not only because it helps to save your travelling expenses, but also to get connected with more people in real life.
4. Apple
This smartphone giant needs no introduction.
When this company launched its new iPhone Se, the email newsletter was stunning with beautiful graphics and text mingled together most attractively.
5. Adobe
Adobe has leveraged the power of segmentation by comparing two similar but different products.
This is also an added benefit for customers who want to know the different products of the company.
6. REI
Souce:optinmonster
The company promotes its products through a promotional code, crafted inside a beautifully created email. The imagery embedded within the email is stunning to attract the user and opt for their service.
Ecommerce email marketing software
For an ecommerce company investing in email marketing software not only ensures a steady growth but also forms a reliable channel to have a direct link with your customers.
Enginemailer offers an integrated cloud platform that offers end to end email marketing solutions like intelligent imports, category segmentation, automated email cleaning, online forms, drag and drop email editor, ready to use templates, mobile friendly newsletters, online surveys, A/B testing, autoresponder tools, integrated analytics, real time callbacks, etc.
The unique unified features of this platform helps to deliver enhanced customer engagement across all dimensions of email marketing.
Bottom Line
The email should be the most important priority for any online retailer. This is something which improves your business and saves you a lot of cost in the long run.
Once you have gathered the bucket list of your subscriber, you could experiment with a few different strategies provided in the article.