As an email marketer, you would want the highest rates of customer engagement. Many factors come into play here, including email list hygiene, and email deliverability.
Keeping a regular check on your email marketing metrics and most importantly, maintaining a clean email list should be your top priority to improve the impact of your email campaigns and target the right kind of people.
A clean, healthy, and highly engaged email list will definitely improve your email deliverability and customer engagement metrics.
A 2017 study showed that in terms of global email deliverability, one out of every five emails never make it to the recipient's inbox. It is either blocked by the email service provider or goes into the junk folder because it triggers the spam filters.
Poor email deliverability leads to poor sender reputation, which in turn, lowers your deliverability rates further. It is crucial that you keep only those email subscribers who are interested in your business on your email list.
Keeping your list clean through email list best practices is thus a very important part of your email marketing strategy!
The Need For Email List Hygiene
Segmenting or categorising your email lists periodically will allow you to send targeted emails to your list and get better engagement and results.
Personalising your emails, not just by adding the customer's name, but by sending recommendations and content that is relevant to his or her journey will also build your relationship and establish trust with your customers.
With the increase in email marketing these days, there is so much competition out there, and making your emails stand out among the rest is vital.
No more are you able to blast a common series of emails to your audience and expect great results. Email service providers are these days very vigilant about the type of emails they allow through to customers' inboxes. They are equipped with very complex algorithms that filter all emails before they reach the inbox.
These algorithms also take into account sender reputation. Sender reputation is usually judged by email open rates, click rates, unsubscribe rates, the number of invalid email addresses on the list, etc. which is why email list hygiene is essential.
Cleaning up your email list regularly will increase the returns on your email marketing efforts. So let's talk about the best practices you need to follow in order to truly take care of your email list hygiene.
5 Email List Best Practices
1. Delete All Inactive Subscribers
This is such a vital step when it comes to email list hygiene.
If you have many subscribers who are not active on your list - maybe they haven't opened your emails in a long time or haven't clicked any of your links in the email - it may be time to say goodbye to them.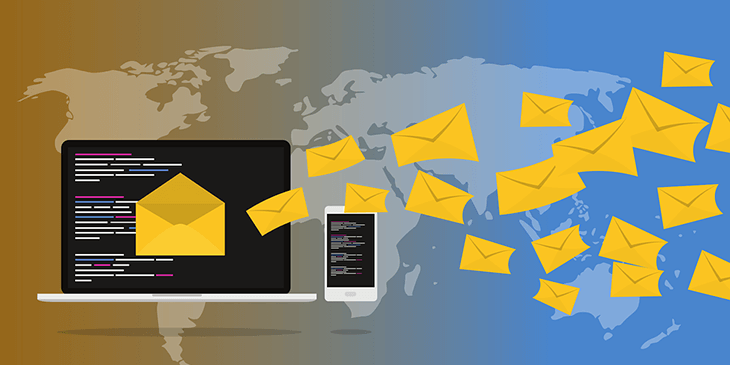 However, never delete your subscribers before sending them some sort of a re-engagement email. This kind of gives them a chance to stay on your email list if they truly are still interested but just haven't had the time to read your emails.
Do this step carefully, and do not do it too often. Sometimes, people are busy, and although they want to hear from you, they just are not able to find the time. These customers will get disinterested if you keep taking them off the list without any warning.
2. Segment Your Subscriber List
An alternative to deleting inactive subscribers is to segment your list. If a subscriber has been inactive for a while, try moving them to a segment of your list to which you can only send good offers and discounts.
You could also try reducing the number of emails you send every month to this inactive list. For instance, if you usually send an email every week, try reducing this segmented list to two emails per month or just one email per month.
Try it out for a while and see if the engagement is improving. You can then delete the subscribers on this list who are still very inactive and not opening any of your emails.
3. Carefully Word Your Subject Lines
Once you have subscribers on your list, it is important to keep them engaged with your content. Sure, you have great email content, but what if you subscribers aren't even opening your emails to read them!
One major reason why this could happen could be because your email subject lines are not enticing enough.
While crafting your email subject lines, you need to make them short, clear, and worded in a way that makes the recipient curious, but doesn't give away too much information.
Try putting more effort into wording your email subject lines and see whether they improve your open rates.
4. Target The Right Audience
Another important thing to remember while segmenting your email list is that you need to send the right emails to the right target audience.
Whether you are segmenting your subscriber list based on geographic location, purchase history, or interests, be careful to send the right kind of emails to each separate list.
Sending wrongly targeted emails could put off your potential customers and cause them to opt out of your list or send your emails to spam.
It's better to not send out an email than to send out wrong emails to wrong segments of your list, so take time while crafting your email campaigns and sending them out.
5. Seek Expert Advice
If you feel like you are just starting out in email marketing and you do not have the right tools for this, do not panic.
Email marketing is very crucial in these days, but there are tons of experts who could guide you better how to do it.
You can receive guidance from those who are already experts in the field and are getting the kind of results you need for your business. It allows you to cut costs and resources that are spent in email marketing with very less ROI (return on investment).
There exist many email marketing companies who provide email list hygiene services that you could benefit from.
Improve Your ROI With Better Email List Hygiene
No matter what field your business is focussed on, a clean email list is crucial for the success of your email marketing campaigns.
Email list hygiene best practices can help your email campaigns achieve a better ROI and ultimately, increase your sales.
You will not just be able to engage with your customers efficiently, but also be able to gain a better understanding into who your customers are and what makes them happy. This will, in turn improve your brand value and the trust that you build with your customers.