Email segmentation can greatly increase your email open rates, your conversion rates, and your revenue.
So, what actually is Email Segmentation?
Email segmentation means dividing your email lists based on certain criteria into smaller segments. It allows you to send different emails to different groups of customers on your mailing list.
Although you're effectively managing your email list, you must realise that no two customers are the same. One of your subscribers may be eager to receive promotions and discounts from you, while another may be only looking for valuable advice and other information from your emails.
The more you are able to figure out the needs of each individual customer and cater to them, the more they will respond and interact with you. By responding, we mean they will open and read your emails and take action.
Did you know that email marketing campaigns are more effective than SEO, ads, or social media channels? That means if you focus on this one aspect of your digital marketing strategy, you'll get a high ROI (Return On Investment) and greatly improve your conversion rates.
So once you have a couple of valuable lead magnets in place and your subscribers are pouring in, it's time to give email segmentation a thought.
Why Do You Need Email Segmentation?
Consider why your email list subscriber joined your list in the first place and segregate them so that you can send the most appropriate email messages to each customer.
Which one of your lead magnets did your subscriber sign up to? That would give you a clue about what he or she is looking for.
Figure out what unique pain points your subscriber has and where he or she is on his or her journey. Once you have that information, you can break your list down into smaller segments based on that information.
A good email segmentation strategy involves the use of segments based targeted emails to increase sales and improve conversion rates.
Why Use Email Marketing In The First Place?
Did you know that for every $1 that you spend on Email Marketing, you can expect an average return of $4? https://dma.org.uk/uploads/misc/marketers-email-tracker-2019.pdf
Email marketing campaigns allow you to deliver value and create a lasting relationship with your customer.
Studies and experience say Emails Marketing is an excellent way to gain the attention of your customers. According to reports, the average open rate for Welcome Emails is 82%. Furthermore, email marketing isn't expensive. All you need to do is gain a list of people interested in receiving messages from you and become creative with the texts you send.
The main objective of having an email list is to collect potential leads so that you have a primed-and-ready audience who want to receive informational emails and promotional messages from you on a regular basis.
Create a couple of informational lead magnets that your subscribers may be interested in. It could be a good idea.
The most effective way to make sure that you are catering to the specific and individual needs of your audience is to segment your email list. That way you can focus on each segment separately and send out information that is valuable to them.
Email list segmentation allows you to truly understand each segment and find out what could make their life better.
Is Email Segmentation Right For Your Business?
Every business requires email marketing campaigns these days.
No matter what kind of business you are running, targeted emails are the best way to reach out to your potential leads and cater to their needs.
Email marketing campaigns not only need to sell products or services to customers, but also need to educate those potential customers on the tools and resources that will make their lives easier.
That's where email marketing segmentation plays a key role. It allows you to identify different sections of people in your list who may have different needs.
The essentiality of email segmentation is that it lets you differentiate between your subscribers.
You can send only relevant and helpful information to every single person on your mailing list. Doing so increases the quality of your mail and the chances of it being opened.
Remember, only adding a personalized subject line increases the chance of an email being opened by 50%. Thus, your marketing campaign will become very much effective when most of its elements are tailored to cater to individual requirements.
Email Segmentation Best Practices: How to Segment Your Email List?
Now that you have understood what email marketing segmentation is and how important it is for your digital marketing strategy, let's get down to the technicalities.
How do you do email segmentation for your subscriber list?
These days, the competition is fierce when it comes to businesses. Customers expect businesses to understand their concerns and cater to them more personally.
It is therefore crucial that you segregate your subscriber list and make your emails more relevant to each customer.
Here are the email segmentation best practices you should follow:
1. Email Segmentation by Engagement
Segmentation by engagement is a must when it comes to email segmentation.
With email marketing being more popular, email service providers are measuring the sender's reputation. This is done to help maintain the good quality of emails in a person's inbox.
To have a good sender's reputation, you should maintain healthy click, open, and conversion rates, regulate your sending volume, and get fewer spam reports.
You see, when you have a lot of people in your mailing list but they don't engage with your content, you will lose your reputation. This increases the chances of your future emails going directly into people's spam folders.
So, the first thing to do is to find out the ones that like emails. If someone doesn't, you can either decide to send them fewer mails or clean them from your list altogether.
To know more about segmentation by engagement, check Best Practices to Improve Email Deliverability.
2. Segmenting Email List by Demography
Most companies separate their subscribers based on various demographic factors like age, gender, marital status, number of children, occupation, annual income, etc. The type of the demographic data you use depends completely on the things you sell.
For example, a wedding planning service's primary focus would be single people. Similarly, a private school would send emails to parents with little children.
The best way to gather demographic data is through sample surveys and questionnaires. You ask a series of questions for people who visit your website, and also ask them if they will be interested in receiving emails from you.
3. Segment your customers based on geographic location
When you sort out your subscriber list based on their geographic location, you can highly personalize your emails to them so that it targets each area specifically.
According to reports from Litmus, geographically targeted emails have an open rate of 68%, while non targeted emails have only 22%.
People's values, interests, knowledge, likes, behavior, belief, and needs vary depending on where they live. Thus, you may need to market different things or market things differently.
Marketing Different Things: If you run a clothing store, you may send emails about jackets in a cold region, and promote waterproof boots in places where it rains.
Marketing Things Differently: Fast food chains like KFC and multinational companies like Toyota use the language of the country their branch is based on.
4. List Segmentation on the Basis of Expenses
For B2C businesses with a wide range of products, separating customers based on the money they spend is effective.
Here is a sample of the segmentation based on the price your customers spend.
VIP Customers: They are most likely to buy high priced items from you.
Sales Buyers: They can buy expensive items, but they are active only when you send them special discounts or promo codes.
Normal Shoppers: They are the general customers who have signed up for your list.
Occasional Buyers: This is the class of customers who don't buy a lot, or has made only one purchase.
Regular Buyers: You can also call them brand followers. Whether or not they have bought ultra priced stuff, you need to put special focus on them, because they are the most likely to talk about your business with other people.
5. Email Segmentation on Buyer Satisfaction Level
When you understand how satisfied your customers are, it doesn't only help you with email marketing, but also improving the overall business.
The best way to find the Buyer Satisfaction Level is the Net Promoter Score (NPS). More than two-thirds of Fortune 100 companies have adopted the NPS for knowing the happiness level of their customers.
To start with NPS, you send an email to your customers asking them how satisfied they are with your business. They can answer it with a numeric scale of 1 to 10, 10 being the happiest.
These are segments of your customers, depending on the results:
Detractors (0-6): Detractors are not particularly satisfied with your product. It is highly likely that they won't buy from you again, and they may hurt your brand reputation with negative word of mouth.
Passives (7-8): Passives will say you are good and are open to buying from you again. Still, they will always choose another company over you for a better deal.
Promoters: Promoters are enthusiastic about your business. They are your fans; they have only good things to say about your company and will recommend you to anyone when they get a chance.
While taking the NPS survey, you can also ask other essential things like why the people gave you the score, and what you can possibly do to get a higher rating.
6. Segmentation on the Basis of Email Funnel
An email funnel is a chain of email marketing. In simple terms, it is a step by step process of sending emails to turn a prospect into a loyal brand follower gradually.
The entire idea of creating an email funnel is to segment an audience based on their familiarity with the brand.
There are five stages of an email sales funnel. Customers in each phase should be getting a different type of email.
Awareness: First, you let your customers know that you exist and give them the idea that you are an expert in the field. In the awareness stage, you don't make a sale but provide valuable information. For example, blog posts, free ebooks, or how-to articles.
Consideration: In this stage, you send personalized emails based on the segmentation itself. You send emails referring to the recipient's problems and also tell them how your brand solves them. For example, a company portfolio.
Conversion: In the conversion stage, you send a message with a direct Call to Action. You ask the recipient to visit your store and look at your products to see if they are interested. Your goal is to turn a prospect into a customer.
Loyalty: After making a sale, you send emails like Thank You Notes, a guide to use the product, cross-selling and up-selling pitches, etc. Make it clear to your customers that you are willing to put the good work to create and maintain a long term relationship with them.
Advocacy: Remember the Net Promoter Score? In this stage, you send emails with discounts, promo codes, and more valuable content to turn passives into promoters.
We have a separate article dedicated to helping you Create a High conversion Email Funnel for your company.
7. Segmentation by Device
As of March 2002, 52.03% of internet traffic comes from mobile devices. Furthermore, more than 70% of people read their email on their phone while waking up in the morning.
You should have a clear insight on what device the recipient is using to view your messages. Emails for mobile phones, tablets and desktop PC all should have different layouts.
Remember, Emails that display incorrectly on a mobile device may be deleted within three seconds (https://www.adestra.com/resources/2016-consumer-adoption-usage-study/).
Some guidelines to make mobile-friendly email messages are lightweight pictures that are not oversized, smaller lines of text, an appropriate size of the font, multiple column layouts, and an alt text. Furthermore, the touch elements (if there are any) on your email should be at a comfortable distance from one another.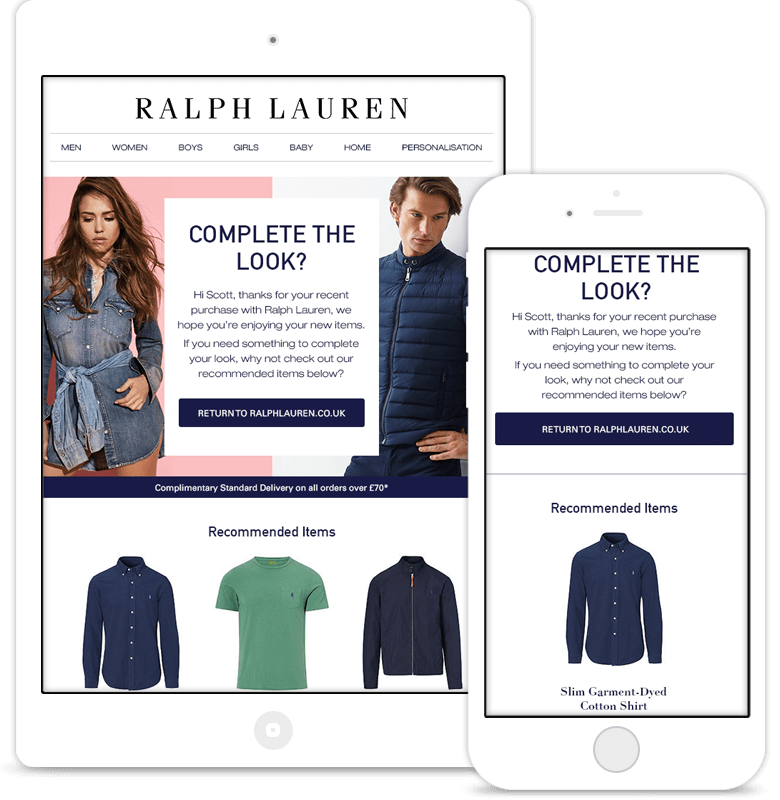 Ralph Lauren- tablet vs phone layout.
8. Segmentation Based on Subscriber's Behavior
What are your customers purchasing from you? What blog posts or social media posts really resonate with them? What are their pain points?
When you thoroughly understand your customers' behavior, you can customize your emails so that it is more relevant to them.
Things to keep an eye on include personal likes, the pages they visit, how often and how much they spend while buying, etc. For example, say they keep on visiting blogs about a mobile phone on your electronics website. In the next email, you can send them a discount code for the phone.
Before starting to send emails based on interests, you can gather information about your customers through a feedback form or questionnaire. It is a great idea to reach out to your customers with a customer survey and tell them that you value their opinions and feedback.
9. Check out their purchase history
Another effective way of email segmentation is doing so on the basis of their purchase history.
Check out what the customer has bought from you in the recent past so that you can make product recommendations for the future.
If your customer has purchased a clothing item, you can suggest similar clothing items or even accessories that go with the purchased item.
You could also send them a 'buying guide' blog post that educates them on which clothing and accessories go together and what pieces of fashion are currently trending.
Keeping track of the purchase history also helps with cross-selling and up-selling.
Cross-selling refers to recommending 'supporting items' for a thing someone recently bought. For example, a fast food restaurant asking you if you want fries when you buy a burger.
Up-selling means selling things that are better than the ones that a person has been using. For example, a software offering more features on an upgradable plan.
10. Reach out to abandoned shopping cart owners'
Shopping cart abandonment rates are more than 63 %.
Sometimes people fill up their shopping carts with the items they like and then abandon it for various reasons. Maybe they weren't able to make the payment immediately or maybe they decided not to go ahead with the purchase.
Whatever the reason, it is always good to send a gentle nudge in the form of an abandoned cart email reminder to them. Remind them that they have filled their shopping cart and haven't completed the purchase.
Everyone is busy, and it could be that the customer got distracted with something and forgot to complete the purchase. These kind of reminders will increase sales, but be careful not to overdo the reminders.
Conclusion:
So these are the basics of email segmentation strategy and some ways of how you can incorporate it into your business.
Email segmentation, as we have discussed earlier, is a very good email marketing strategy and increases sales if you do it right
The key is to identify the different types of customers on your subscriber list, figure out what each customer truly needs, and deliver value to them.
Do you use email segmentation as a part of the digital marketing strategy for your business?
What are the segmentation strategies that work for you?