From Martin Luther King Jr. Day to Christmas there is always a holiday around the corner. Unlike other days of the year, holidays are the time when customers tend to be a little less concerned about their spending habits.
For businesses, holidays are great occasions to build better relationships with customers and boost sales. One of the best ways to do it is by sending them a heartwarming email for being the awesome people they are.
By combining your email campaigns with the right holiday email templates, you can utilise this opportunity to thank your loyal customers and at the same time, transform it into an irresistible holiday offer.
Here are some of the best examples from leading brands to draw inspiration from.
1. Bellroy
The holiday promotional emails from Bellroy is an excellent example of how businesses can perfectly combine their branding with the spirit of Christmas. The brand uses a red accent, the colour primarily associated with Christmas, to highlight the products and also the call to action button.
Furthermore, Bellroy doesn't directly sell any of their products. Instead, they engage subscribers by mentioning the joy of gifting and subtly present their gift guide as a reference.
2. Casper
Many of your customers may delay the holiday season shopping until the last minute, either because they haven't found the right thing to buy for their loved ones, or they are tired of choosing one due to choice overload. Either way, the holiday season emails from Casper is one of those witty campaigns that catch the attention of consumers.
By including a screenshot of alarms set, Casper is able to grab the attention of subscribers by letting them know that it's okay to miss the early Black Friday sales and sleep well instead. Adding to that, the company offers a code "SLEEPIN" which is well placed and evident, followed by a CTA "SHOP".
3. George Hats
George Hat's holiday email template is an excellent example of how minimalistic designs can tempt users to make a purchase. The email has minimal texts and focuses more on offering high-quality images that are capable of communicating what the product is, and at the same time, shares the joy of Christmas.
The copy towards the end is concise and focuses on limited edition truckers, along with an invitation to join their VIP group to get the latest updates and sneak peeks of the brand.
4. MacPaw
It is natural for customers to be confused about what to gift. In such cases, customers may find it useful if businesses can suggest something to start with. That's what MacPaw does and gives customers a chance to purchase a last-minute present.
The holiday email uses minimalistic elements to highlight the joy of Christmas and uses simple colours to make the image soothing for eyes. The email also uses a CTA "Send CleanMyMac as a Gift" to highlight the convenience of gifting.
5. Amaroso
The holiday email from Amaroso, an online women's clothing store, is again a great example of how you can use the Christmas colour scheme with a minimalistic graphic design. Almost every element placed in the email has a Christmas theme in it.
For clothing stores, using images with red clothes is a great way to impart the excitement and heartwarming feeling of the season to its users. If you are looking for minimalistic holiday email templates, then this example is a classic one to keep in mind.
6. She Simply Shops
The email from She Simply Shops is an excellent example of how you can send happy holiday emails to customers without any promotions. The email gets straight to thanking the customer and doesn't try to promote any of their products.
However, the email contains menu bars and also offers contact information and social media links. Just like the brand name, the email conveys the wishes of the season simplistically.
7. For All Mankind
This promotional email uses just two colours - black and white and puts more emphasis on the "40% off" it is offering its customer. Just like the previous example, this email includes menu bars and social media links
Also, the email contains clear CTAs. Along with that, the email makes the subscribers feel special by offering them a VIP early access and also reminds them of the start of Black Friday sales.
8. Mahabis
While most of the holiday time promotional emails focus on the joy of gifting, Mahabis takes a different approach by focusing on the subscriber. There may be several reasons why the customer couldn't buy a gift before Christmas eve. Mahabis realises this and offers an extended discount which is available even after Christmas.
When choosing the holiday email templates for your next campaign, this example can be a great inspiration as it uses a single image and conveys the rest utilising the email copy.
9. 24S.com
The holiday email from 24S.com is an elegant example of how a simple layout with eye-catching photos can create wonders. If you take a closer look at this example, there is little to zero graphical elements in the email. Instead, they use magic-like images and bold text copy to catch the subscribers' attention.
Several CTAs are also well-placed throughout the email to make sure the customers are informed about what to do next.
10. PUMA
The Christmas-themed holiday email from PUMA specifically targets last-minute buyers, telling them there's another chance for them to make a purchase. To complement that, the brand offers free overnight shipping, which is clearly highlighted in the image.
Towards the end of the email, PUMA uses Christmas related images to add more meaning to quick links such as gift cards. The email also clearly specifies the holiday special 50% off in bold fonts, followed by a CTA.
11. Ibotta
The Thanksgiving holiday email from Ibotta is an inspirational example for retailers, especially for ones having a mobile app for their business. The email straightaway points out "$50" in the largest font size, making it almost impossible not to notice.
By sharing a referral code, the subscriber can earn $50, which seems too good to be true. This is a great example to follow if you are planning to increase app installs and at the same time, thank your loyal customers. The email also uses a header "ENDS TOMORROW", to create urgency.
12. LEGO
LEGO's holiday email is an excellent example of how businesses can offer season customised products to their customers. The brand uses the email to introduce their Christmas collections and has done a great job in doing so.
The email in its entirety contains a red theme resembling the season and includes characters related to Christmas. To top it all off, LEGO offers a free gift to entice users to make a purchase.
13. Avenue 32
Avenue 32's holiday email is again an example of non-promotional wishes sent by brands. The majority of the email is consumed by a classic image of a Christmas tree and will be well appreciated by subscribers who like things clutter-free.
However, the brand doesn't forget to include menu bars that can drive online sales. If you are planning to send a simple, yet elegant Christmas postcard then this is a great example to draw inspiration from.
14. Poo-Pourri
This is an excellent example of highly creative holiday email templates that can be used to urge users to buy your products. Although a graphically excellent one, the main emphasis of the Halloween themed email from Poo-Pourri is the amusing copy the brand offers.
Poo-Pourri combines the graphical elements and the copy to give the subscribers a feeling that their products will vanish soon out of scarcity.
15. Sevenly
Sevenly is an online clothing retailer that donates part of its profits to those in need. This means every time a customer purchases, they are indirectly contributing to helping someone. While the idea seems well-thought, many customers may lose their motivation down the lane.
To counteract this, Sevenly used bold numbers on their new year wishes email to directly point out the impact users have made through their purchases and also thank them for doing so. If you are a non-profit organisation or follow the business model of Sevenly, such types of holiday time email templates can bring warmth to your subscribers.
16. GAP
Even though your logo is your brand identity, you can tweak it with changing seasons to match the theme. GAP uses its Christmas-themed logo for its email campaigns, and you can also give it a try.
Along with that, the email uses a simple and elegant layout with minimal graphical elements and puts more emphasis on the images and email copy. For clothing retailers, this is an excellent example of how you can craft a mesmerising holiday promotional email using high-quality photos.
17. BarkBox
Just like sending early bird promotional emails, sending last-minute offers can help in targeting the busy bees. Here's an example of how dog products retailer BarkBox does it. This email focuses on detaching the guilt of postponing Christmas gift purchases and offers a last chance to do it.
This email template uses eye-catching fonts, clear CTAs and witty copywriting to highlight the benefits of making a purchase and offers free shipping as well.
18. Lord & Taylor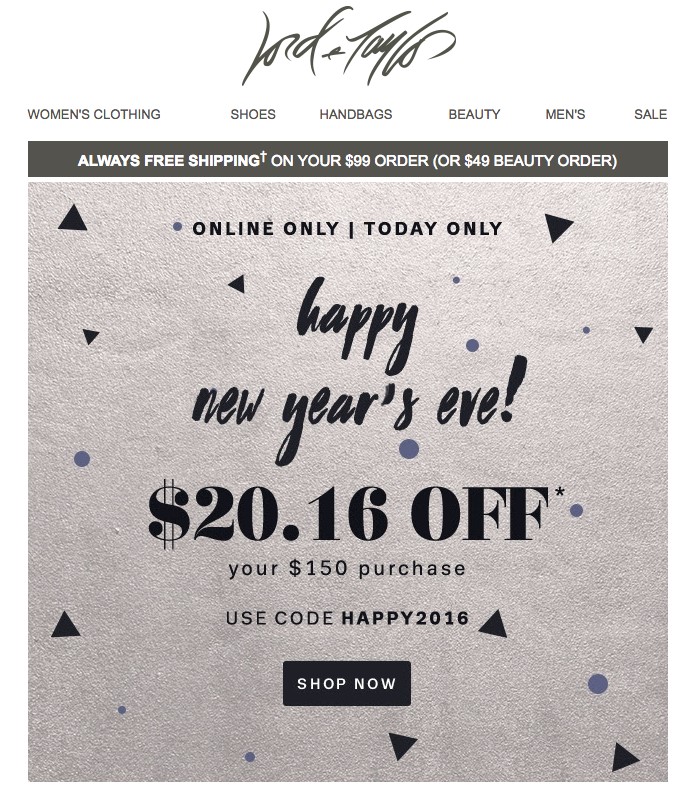 This 2016 New Year holiday email example of Lord & Taylor has two striking advantages. One, it uses minimal texts and focuses more on the aesthetics of the image. Two, it offers a discount which relates to the year we are stepping into.
If you are planning for a year-based offer for 2021, you can draw inspiration from this example. If you take a closer look at the image, you can see that the background comprises of leather-like texture, which again resembles the products they sell.
19. Udemy
The Cyber Monday Holiday email from Udemy directly gets to the point with a clear CTA to shop courses for $10. The yellow background does an excellent job of differentiating from the elements placed above it. Such a design can be adopted by an eCommerce business to showcase their products aesthetically.
Another notable feature of this email is the urgency it brings using the countdown timer. For online retailers, urgency can tempt users to make impulsive purchase decisions.
20. Brooklinen
Again, a great example to target last-minute shoppers or procrastinators. The online bedroom sheet retailer Brooklinen uses its well-thought email copy to comfort the user not to feel overwhelmed for not gifting someone.
The brand suggests e-gift cards as a solution to last-minute shopping by empowering customers to gift their loved ones without getting out of their homes.
Wrapping It Up
While holidays present incredible opportunities for you to gain huge in terms of revenue, you don't have to make your email campaigns entirely about that. You can use it to show your gratitude towards each customer and offer them something exclusive for their continued loyalty.
Whichever holiday email templates you use, don't forget to personalise it and add elements that can enhance the user journey. The primary goal is to make your customers feel special and put a smile on their face. If you can do that, you will successfully win hearts, which will ultimately translate into better sales in the long run.
Check this link to know more about creating html emails templates and newsletters.