Notification emails are an indispensable email marketing tool to keep users engaged.
Unlike email newsletters, that are released on a rigid schedule and could include a variety of information, notification emails are succinct and sent based on a user's actions or current state.
The most effective notification emails have a singular goal.
Like Robert Browning so aptly said, "Less is more" - even when you activate notification emails.
Important Aspects of Notification Emails
An ideal notification email will communicate essential information and seamlessly interact with the customer.
When crafting your notification emails, there are some things you need to take note of. Let's look at them one by one:
1. Subject Lines
Subject lines are a crucial element of your emails, especially when you activate notifications. It is important that the recipient understands what your email is about before they even open it.
Cleverly crafted subject lines will greatly increase your open rates and ensure that the customer takes action after opening your email.
Keep in mind that the subject lines of notification emails should directly convey the main message of the email so that the specific user knows the content of the email without even opening it.
2. Design and Content
Notification emails should be designed just as carefully as your other digital products.
The end goal of your notification email is to keep the customer engaged and make them take action.
It is important that the content of your notification emails are crisp and clear, with a relevant call to action.
It is equally important that your notification emails are designed well and look professional and uncluttered. They should also highlight the message or notification that you want to alert your customer to.
You must receive notification emails that are plain and uninviting. They hardly give you any motivation to take action.
On the other extreme, you may also receive notification emails that are so full of irrelevant images, unintelligible fonts, multiple call to actions, and other marketing tactics that distracted you. In this case, the main purpose of setting up email notifications is lost and the customer is left confused and irritated.
A good notification email conveys just one idea, like we discussed earlier. The body of the email elaborates on that one message, and should never be used to convey more than just one idea or notification.
You should never overload your notification emails in a way that deviates the user from the main message. This would defeat the whole purpose of the notification email.
Overcrowded notification emails also put off the recipient as they are already bombarded with irrelevant marketing messages in their inbox all day long.
This could also cause the specific user to disengage, unsubscribe and even mark your messages as spam.
A poorly designed notification email will be counterproductive and reduce customer engagement, so take time and effort to design and plan your notification email content properly.
3. User Experience
The next important aspect that comes to mind while talking about notification emails is the overall user experience.
Pay attention to the user experience and make sure that the visual identity and voice align with your brand.
Read the messages aloud and make sure they don't feel robotic. You want your users to feel like they are interacting with another human being, not a machine.
Although your email notification or push notification needs to convey one message directly to the specific user without any distractions, it doesn't have to be boring. Use efficient email copy that brings out the unique personality of your brand in a memorable way so that your product or business stays fresh in the mind of your customers.
4. Call-To-Action
Have a direct call-to-action in the body of your notification email. Notification emails should be relevant, urgent, time-sensitive, and frequent (depending on the customer's interaction with your brand or company).
Users hardly give more than a glance to notification emails, so it pays to get to the point immediately. Don't beat around the bush or use flowery words for your call-to-actions. Get straight to the point.
Also, provide a simple way for the user to take action - this could be in the form of a button with a CTA (call-to-action) or a link that takes them directly to the webpage where they need to perform the action.
Complicating this process would only leave the user frustrated and cause him or her to abandon your email and not take the required action.
5. Personalization
Lastly, let's talk about email personalization.
Since a push notification or notification emails are sent based on a user's state or action, you should personalize content.
Ensure that all the material included addresses their individual needs, actions, status or history with your company.
This creates value for the user - the key to keeping them engaged with your business.
Take away all the information in the email that is irrelevant to that particular user or that particular situation.
General Notification Email Types
Now that you understand the essentials of notification emails, we've listed some of the most common types below.
A) Re-engagement Notifications
Did you know that it costs way more to attract a new customer than to retain and re-engage an existing one?
If an existing customer has stopped interacting with your company, a re-engagement email is a good way to reach out to them.
All businesses should have a model that dictates how long is too long when it comes to user inactivity.
Once that time has passed, you send a re-engagement notification. Sometimes users forget your business exists — a re-engagement email is how you remind them about your business.
If you provide a product or service, some of the best ways to capture the attention of your customers include discounts, product promotion based on their spending habits, and repurchase reminders.
Apart from social networks and other marketing channels, re-engagement emails have proven to be the most personal and effective way to get a customer interested again in your business.
A very crucial way to understand your customers is to collect relevant data about them.
You need to track and analyse the behaviour of your customers to truly understand your target audience and why they stopped engaging with your brand.
Find out relevant information such as who your target customer is, which gender they primarily belong to, how often they've done business with you, what products or services they have purchased from you, and when they stopped interacting with you.
Knowing all this will give you the upper hand and allow you to send targeted emails to them, making them re-engage with you.
B) Subscription Notifications
Not all users want to make an account with your website.
Some may just be interested in receiving newsletters or other email content. This notification confirms their subscription and doubles as a welcome email.
Your subscribers are most excited about your business when they first subscribe to your email list, so make those first few emails count.
The first subscription email that your subscribers receive should ideally be packed with relevant information about your company or website. You could also segment your list by including relevant links so that you know what each of your subscribers is truly interested in.
You can include a discount or special offer if you offer a product or service as a thank you for them taking the time to subscribe to your email list.
C) Unsubscribe Notifications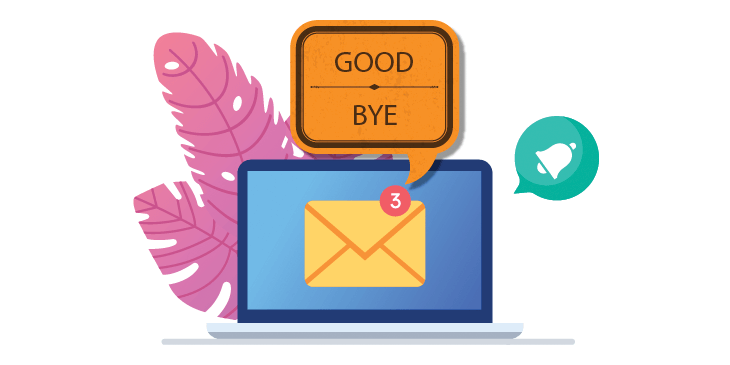 If a user wants to unsubscribe, this is your chance to win them back, but be tactful about it.
First and foremost, thank them for their support. Since you don't know precisely why they are unsubscribing provide potential solutions to their problem.
Inform them that they can change not only the frequency of the notifications but the specific ones they receive and include a link to change their notification preferences.
As a final token of appreciation (and the last effort) add a special discount or offer that targets a product or service that recently piqued their interest.
This way they can stay on your email list and change their notification preferences if they want to.
D) Account Activation Notification
When a consumer makes an account with your website this is the first email they receive.
Outside of the account activation instructions, this email should include a brief welcome message.
E) The Welcome Notification
Once the account activation process is complete, a welcome email is sent out.
Be kind, be human, and drive home your brand identity and purpose. Don't forget to thank them for joining your website.
If you offer a product or service, a discount to spur their first purchase is an excellent addition.
Mention in this email whether you will be reading replies to notification emails so that the user can write to you in case he or she wants to.
F) Account Assistance Notification
Sometimes users forget their login information or need to reset their password.
These types of notification emails are sent with clear and easy to follow instructions to obtain the information they need. Do not include any unnecessary information.
G) Support Notification
If a customer requests assistance, this email lets them know that their inquiry successfully went through.
While this is an opportunity to push sales, it's not a necessity. Remember less is more.
If you do go that route keep it subtle and include it as something they can do to pass the time while they wait for your response.
Encourage replies to notification emails so that users can easily reach out to you with their issues.
H) E-Commerce Notification Emails
If you offer a product or service, there are several notifications that your company will use on a consistent basis.
E-commerce notifications usually inform users of available discounts, new arrivals, and popular merchandise.
You can also give your potential customers the option to change their notifications settings based on their preferences.
By changing their notifications settings, your customers will be in control of what kind of promotional emails reach them. This will ensure they receive notification that are relevant.
I) Order Confirmation
After a customer places an order they receive a transactional email confirmation.
Transactional emails include all the information the customer needs to know such as their order number, the products they ordered, the recipient address, and the total they spent.
While transactional emails shouldn't be used as a marketing email you can include a discount code to thank them for the purchase or links to associated products near the bottom of the email.
Another important thing to mention here is that you need to ensure their recipient address is mentioned in the email so that they can immediately make changes to it in case it is incorrect. This ensures that their order reaches them on time and there is no confusion or delay.
You should also include the date and time of arrival of the product so that the recipient knows when to expect it and is prepared to receive it.
J) Shipping/Fulfillment Notifications
Once the product is on its way, the customer will receive notification about shipping confirmation.
Give them a summary of their order alongside a tracking number if applicable. During the shipping process, you can also send updates. The three most basic fulfillment emails are sent when a product has left your facility, when the product arrives at the dispatch facility in their area and when the product has arrived at their home.
K) Order Cancellations
If your customer cancels their order this notification lets them know the cancellation went through.
This is your opportunity to "win" them over with a product that might work as an alternative but make sure you include any recommendations as an afterthought, not a primary goal.
L) Refund Confirmation
Sometimes your product or service doesn't meet the needs or standards of a consumer.
Thank them for their purchase and show you care about why they asked for a refund.
Inquire and invite them to email you with their problem. You can also offer a discount, or suggest similar products that might make an adequate replacement to show you are trying to solve the problem they had initially.
Give your customers the option to reply directly with their concerns so that you can sort out their issues quickly.
M) Abandoned Cart Notification
When it comes to boosting revenue the abandoned cart notification is essential.
By this point, a customer has already shown interest in your product or service and has added it to their cart, but for some reason has left it sitting.
You can't read their minds, but you can remind them that they were once ready to make a purchase.
Abandoned cart notifications aren't singular, and should be gentle nudges reminding the customer of their potential purchase without being pushy. The process is delicate, and while the first follow up should be sent within 24 hours the others need to be spaced out in a way that doesn't annoy the customer.
To help buffer against the possible annoyance caused by a repeat email ensure that each abandoned cart notification is unique. You can even add a discount to help land the sale.
---
While this list is long, it doesn't encompass all of the possible emails you can send out.
For example, if you have a social media site or social networks site, your push notifications could include increased follower, message, and friend update or comment notification emails.
Enginemailer will help you with selecting the notifications that are most important for your business growth. We are dedicated to increasing your user engagement and building your email list one well-thought-out message at a time.
If you have any questions about how we can help, contact one of our email marketing experts now! We'd love to hear from you.