As we all drift into the new year, it's essential that we remember the lessons of the last few years.
Believe it or not, we're about to close out the second decade of the 2000s. During the last 20 years, a lot has changed — especially in the digital world.
We've seen trends come and go. All of the frictions surround change are eventually reduced to ash as new technology reshapes and redefines industries.
If we've all learned one thing from all of these ups-and-downs, it's that you need to be fluid to survive in the digital age.
You have to be willing to throw out preconceptions and test out new ideas, trends, and tech movements.
Today, we're going to look at email design through a new year's lens.
What started off as simple texts blasted across old Yahoo accounts has transformed into complex, animated, and segmented campaigns that are automated to reach hyper-granular targets.
This new year will bring its own unique challenges for email marketers.
Savvy marketers will keep up-to-date with the trends and try to leverage growing technologies to create the best email campaigns possible.
So, put on your 2019 dollar-store glasses, grab a martini, and let's dive into a list of email trends that will define 2019.
Here we go!
Social Media Integration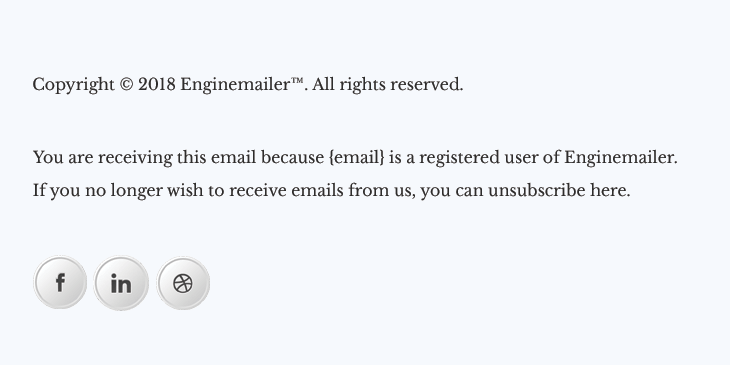 We all know that social media is a big deal in the marketing world. But, did you know that email was one of the best ways to boost your social media engagement levels?
In fact, according to QuickSprout, email subscribers are 3x more likely to share your content on social media than people from any other channel?
We all know about shoving social media sharing buttons at the bottom of an email; it's been going on for years. But, email marketers are starting to get clever.
You can do a ton with social sharing, from unique sharable buttons (bold, glossy, characters, uniquely shaped, etc.) to shareable sections of content (such as tweetable statistics, shareable purchases, etc.) social integration is becoming a critical part of the email design process.
Giving users tons of different ways to share the content that they're receiving is a great way to boost your social strategy.
Remember, email marketing goes beyond your email KPIs, you can leverage email to boost your ROI across campaign channels.
Illustrations
Sporting unique, high-quality illustrations is one of the fastest ways to provide your customers with some insanely rich, customised visuals.
We saw illustrations dominate 2018, and we expect that trend to carry into the new year.
Illustrations can quickly explain a concept without overly saturating emails with visuals.
At the same time, illustrations can be colourised and characterised to be incredibly on-brand with your vision.
Illustrations can be quirky, fun, witty, and artistic all at the same time.
Did you know that people only remember 10% of written information 3 days later? Guess, what? If you add an image to that written info, that number increases to 65%!
We've already seen the number of illustrations hitting our mailboxes increase in 2018.
We expect the trend to continue. In fact, 37% of marketers are already utilising them!
Branding
As businesses continue to find a way to make an impression while markets fracture and competition rises, branding has become the beacon of light at the end of the marketing funnel.
Finding a way to differentiate yourself is critical for marketers looking to build loyalty, boost metrics, and create lifelong customers.
So, we're seeing this push towards branding being projected into the email space.
Branded images, logos, designs, and videos are all becoming integral email strategies.
If you aren't already finding clever ways to brand your emails, you should start. In fact, Walker predicts that branding will overtake price and product as the key differentiator by 2020.
It's not just about slapping a logo on your email; it's about making sure that every element of your email screams, well, you.
From your colour palette to your copy, emails are becoming more diverse and exciting. We're all making our own rules, creating our own identities, and crafting some pretty spectacular one-of-a-kind emails in the process.
Personalisation
Are you looking for 46% higher open rates and 112% higher click-through-rates?
Try personalising your emails! Delivering catered messages to prospects is a surefire way to growth hack your email campaigns.
Not only do we expect 2019 to be the year of email personalisation, we think that 2019 will be the year of personalisation for marketing as a whole.
Seriously! Let's take a look at some personalisation statistics.
74% of marketers believe that personalisation increases engagement levels (source: eConsultancy)
Personalised emails have 6x higher transaction rates! (source: Experian)
Emails with personalisation have 20% higher sales. (source: Monetate)
Personalised email marketing generates an average 122% ROI! (source: eMarketer)
Personalisation (the marriage of segmentation and automation) is one of the single most powerful email marketing tools of the century — and we expect it to explode in growth this year as marketers look to separate themselves from the pack.
Typography
As marketers continue to leverage automation and segmentation, typography has become a great way to reach consumers.
For years, stock images have dominated the email market, but, as new tech emerges, text seems to be making a comeback.
Bold, unique, and fun fonts are a great way to separate yourself from the crowd. Plus, it's easy to make text personal!
This trend goes beyond typographic images. We're also seeing plain text emails make a comeback.
Part of that is due to image blocking. In fact, well over 40% of email users were blocking images all the way back in 2015!
Again, images are great, and they will continue to see use across email campaigns, but typography is a promising way to deliver marketing materials without running the risk of getting your campaigns blocked.
Not only is typography simple, beautiful, and easy, it's also an incredibly powerful marketing tool.
Studies show that well-designed typography can engage users for an incredible amount of time. In fact, some users are oblivious to how long they're actually consuming the content.
Again, 2019 is going to be the year of differentiation.
As AI tech emerges to disrupt the email space, marketers are finding that they simply have more time to toy around with graphical specifics.
Typography is fun, simple, and can be hyper-engaging if used correctly.
Bite-Sized Content
When we talk about bite-sized content, we're talking about embedded videos, animated graphics, micro-interactions, and any other small piece of material that users can consume.
These small, but significant, pieces of content give users quick bursts of punchy consumables without forcing a brick of content down their throat.
Something as simple as a shareable quote, tweet, or a unique little factoid counts as well!
Bite-size content is the perfect way to engage users — especially in an age where there is so much competitive content. Users want quick bursts of info, not overwhelming 30-minute long videos.
We've also been noticing infographics playing an increasingly significant role in email marketing, especially on the B2B side. We expect this to continue in-line with illustrations and bite-sized content.
Leverage User Generated Content (UGC)
84% of consumers trust peer advertising above any other source. Use that!
User-generated content (UGC) is a fantastic way to push people to engage with your brand while simultaneously using them to promote your services to others.
Create emails that contain videos shot by users or testimonials by some of your raving fanatics!
Did you know that people who are referred by loyal customers have 37% higher retention rates?
Something as simple as tweetable testimonials or user-created images work great! But, you can even run campaigns to push users to create and share videos. Then, you can use those videos in future email campaigns. That's a win-win.
Final Thoughts
With the new year comes new email strategies.
So far, we've seen social integration, illustrations, social integration, personalisation, typography, bite-sized content, and user-generated content being used en masse.
It makes sense. As segmentation and automation grow increasingly dominant in the email marketing space, all of these trends nicely compliment the ability to send trigger API emails to users.
2019 is set to be an incredibly diverse and unique year for email marketing.
Companies are starting to play with branding as a primary driver, which means more targeted, less generic emails. The future of email is personal, and the future is now.
If you're looking for the software to complement your 2019 email marketing goals, contact us.
Enginemailer campaign management tools and automation abilities will rocket your campaigns to 2019 and beyond.
Don't just take our word for it!
Sign up
. You'll get
10,000 free emails monthly
— forever! No gimmicks, no pressure.