We have all received an automated email from different brands. But have you ever thought of sending out one of these emails yourself?!
The vast majority of marketing messages you receive via email will fall into the category of autoresponder emails. These emails are simply automatic messages that go out based on the action of a lead, prospect, or customer.
To make the most effective use of these emails for your business, let's consider what email automation is and why it is important.
What is an Email Autoresponder?
An Email Autoresponder is a series of well-planned emails that go out to subscribers in a particular order and frequency.
The best part of setting up autoresponders is that you will not have to send out those sequences individually. They get sent to anyone who joins your email list or perform a certain action. You only need to plan out the sequence one and you're all set!
They save up a lot of your time, allowing you to focus on other important tasks such as creating new products or taking up new clients.2
You can also A/B test autoresponder series to check which one works better. Try a different subject line or vary the number of emails per month and check the conversion rate.
What are the types of autoresponder emails?
One of the best things about the proliferation of email marketing is this - most people who give you their email via an offer or mailing list option on your website actually expect some emails from you!
Certainly, you can give them too much of a good thing, but when you build needed communication (like a shipping confirmation) into a branded, content-rich email, you can avoid annoying customers while still driving toward greater brand loyalty.
Here are some of the most valuable and expected forms of autoresponder emails, each triggered by a choice made by your potential customers.
One effective way to gather prospective customer's emails is to create a prominent place on your website for visitors to input their email.
The kind of person who signs up to your list is either:
interested in your company/product, or
interested in getting something for free via offers.
Either way, he or she is a good person for you to keep in hand!
The autoresponder you send to such a sign-up will be different depending on what you offer as a brand and what makes sense for your organization.
Here are some scenarios and how you might respond:
If you offer a one-time, 10% coupon in exchange for the email address, you may automatically send a friendly "your sign-up has been confirmed" email that contains the coupon.

Others choose to automate two emails: one as the confirmation, another as the coupon 24 or 48 hours later. This is effective if the customer might grow impatient and purchase now, using the coupon later for a second purchase.
If you offer a high-cost, one-time-purchase product, you might offer a "free quote" or "free demonstration" as an enticement to give the email address.

In this case, an email that appears to come directly from you or a particular salesperson (can be randomly assigned) with an offer to chat on the phone or set up a meeting.
If joining a mailing list doesn't carry any kind of offer, send a content-rich email that reflects your brand; include some kind of interesting, useful how-to or story that will engage the prospect and offer them a chance to grow more attached to your brand.

Phrases that welcome the reader to a "club" of some kind are appropriate if your customers have common interests that can bond them to one another.

Other, industry-specific options are great as well, as long as the content of the email flows naturally from the value offered in the email sign-up prompt on your site.
2. Confirmation of Activity Emails
If your customer makes a purchase or their order ships, or there are questions about their order, your autoresponder emails can pull double duty.
One element is making sure that you give clear communication to your customers, but the second chance is to add something else: a link to your company blog, an invitation to like or follow on social media, or a quick survey.
Including these items takes very little space and time, but it can boost your numbers on a few different fronts that matter to your company, all while wrapped in a package that customers actually expect and appreciate.
3. Shopping Cart Abandoned Emails
If someone doesn't complete an order but has already "signed in" or otherwise provided an email address, you can use this to your advantage!
Automate an email that, for instance, asks if there is anything you can help with, acknowledging the incomplete shopping process.
Another option is to automate a delayed email that, after two or three days, sends a coupon to the potential customer; this might just be enough to get them to head back to your website and complete the sale.
Use these kinds of emails to solve a problem in your business, not just habitually harangue your customers; if you learn, for instance, that they don't like the buggy payment system and don't come back even with a coupon, make changes to your system.
Abandoned shopping carts are valuable pieces of information for change and improvement.
4. Up-Selling and Cross-Selling Emails
Up-Selling means recommending more expensive or high-end products than the ones your customers already have.
Cross-selling refers to selling additional or complementary products with the item you just sold.
Well, most companies like to upsell on the internet rather than cross-sell. Studies show that up-selling is 20 times more effective than cross-selling on ecommerce websites.
Remember, you should never make an up-selling email immediately after the customer buys something. Imagine buying an iPhone X and Apple telling you how well the Apple 11 performs when compared to your device.
Give it some time, message your customers when a new product is released or when it becomes more apparent that they need additional services.
5. Surveys and Feedback Emails
After a purchase or after your company experiences a little bit of good (or even bad!) press, you can use your autoresponder to send surveys or requests for feedback.
The percentage of people who will fill it out may be low, but they tend to show that your company cares about their customers, which can increase brand loyalty even in those who barely glance at the email!
6. Customer Appreciation Email Autoresponder
Who doesn't like getting attention every once in a while? A customer appreciation email is an email thanking your customers for buying from you.
Customer appreciation emails aren't necessarily sent immediately after purchase. You can thank your customers at any point in the time to remind them that you are happy to have gotten the opportunity to serve them.
Customer appreciation emails are sent keeping the retention in mind. In some cases, discount code or other promo options can accompany a customer appreciation email.
7. Come Back to Us Emails
If someone signed up for your newsletter or mailing list and remains inactive or doesn't engage with emails, you can trigger a custom email for 1 month, 2 months, and 6 months afterwards.
Perhaps your first month reminder is an "extension" on the deadline of their coupon, while the 2 month email showcases whatever is newest in your products and services.
You can then use the 6 month email to ask for feedback and asking "how their needs have changed," or something else relevant to your business.
Each of these touch points, by being different, have the ring of authenticity and personality, all while re-awakening what would be otherwise dead leads.
8. The Best of Autoresponders
The 'Best of' type of auto response emails work for subscribers who occasionally visit your blogs or websites and have some time to skim off highlights. You make a list of your most viewed content and email the link to your subscribers.
Furthermore, you can also list the products that had the highest sales in the last year. Still, the priority here is to make casual subscribers your regular followers. You also try making sales in the process, but you can't be too pushy.
Examples of high converting email autoresponders
A) Welcome Email - Asana
This email from Asana is a perfect example of a well planned welcome email. On signing up, you receive this email which welcomes you into the company, and provides you with a quick briefing of all the important features.
This will allow subscribers to start using the services immediately instead of spending time asking someone else or searching for tutorials on the internet.
B) Confirmation Email - BuzzFeed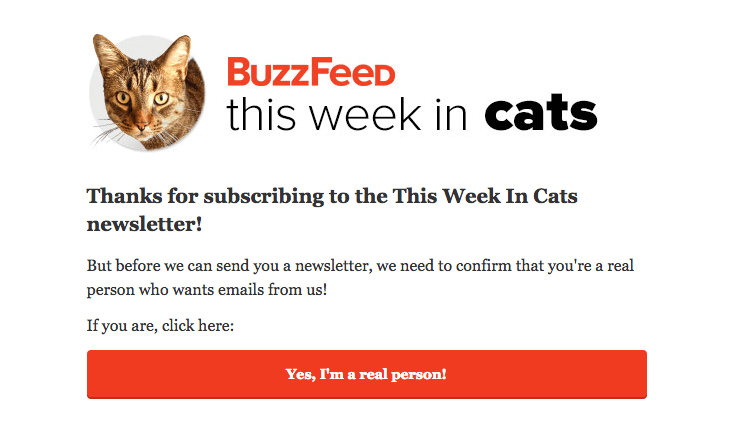 This confirmation email from BuzzFeed is simple and funny. It shows off the brand voice while doing its job of confirming the email address of the person who just signed up!
This is a great way to build a relationship with your customer. It also provides a simple way to undo the action the customer just performed, by providing a link to unsubscribe from the list.
C) Shopping Cart Abandonment Email - Fab
Abandoned shopping cart emails are a very crucial type of autoresponder. When a customer fills his shopping cart, it means he is intending to make a purchase.
However, if he leaves before completing that purchase, it could only mean one of two things:
He got distracted with some other task, or
He found the total payment amount to be too much.
An autoresponder can address these issues by reminding him that he left his shopping cart without making the purchase, and maybe even offering an extra discount that might entice him to make the purchase.
D) Cross-Selling and Up-Selling Email Autoresponder
i) Cross-Selling Example - Matalan
This is a perfect example of cross-selling from Matalan, a clothing store. After the user buys a school uniform, they receive a "Thank You" note and recommendations for other clothes that their kids would need.
The quality of a good cross-selling email is that it sounds helpful than the one that's simply trying to make a sale. Here, Matalan subliminally makes people aware that even if they have the uniform, they will still need other clothes that are essential for a school goer.
ii) Up-Selling Email Auto-Responder - Verizon
As soon as the person paid their phone bills, Verizon sent them the bill and was clever enough to market at the same time. They sent an Upsell email that would get interested people to check better data packs than the one they had.
An Upsell email should be subtle. Of course, you are promoting things that are better than the ones that the person already has, but you can't risk telling that the thing they own is bad.
E) Feedback Email - Netflix
Feedback and survey emails tell your customers that you care about their opinion. It also shows them that you are constantly trying to improve your services.
This feedback email from Netflix achieves that goal in a simple, straightforward way. With a big red button that takes the customer straight to the feedback form, there is no hassle. The customer knows that it will take just a couple of minutes of his or her time to fill in the feedback.
F) Customer Appreciation Autoresponder Email - Birchbox
Birchbox is a New-York based subscription service that sends its subscribers selected skincare, health, and makeup products. Every April 18, on the occasion of the Customer's Appreciation day, they sent thank you notes for their subscribers.
In the above email, they also included a "Free Shipping" scheme along with the special offer that a customer would get if they clicked on the 'Let's Party' button. The message sounds Humble and Thankful, but it is also enticing enough for the customers to view the offer and purchase in some cases.
G) Come Back to Us Email - Hollrr
This 'Come back to us' email from Hollrr is hilarious and smart. Along with making customers smile, Hollar has cleverly added some links to its best content, customer reviews, etc. This helps remind the customer why he or she signed up in the first place.
H) The Best of Emails- Nat Geo
National Geographic sends its subscribers routine 'best of' type emails. They share content regarding photographs, videographies, and other materials that users may find useful.
In some cases, they are also able to sell DVDs and videos through their emails. Their 'best of' mails are always high-quality. After all, they have some of the best content creators in their field.
Why do autoresponder emails matter?
So you are starting to see that quite a lot of customer communication can be automated; you can make the most rote of your emails automatic and focus in on individual needs for the majority of your sales and customer service time. Here are some of the major advantages of autoresponder emails.
1. They offer high ROI and reach potential
Ultimately, the time it takes to create email templates (even with name customization and other features) and the money for email automation software is vastly outweighed by the return on investment.
Customers, even those who claim they don't like getting "too many" emails, actually like getting offers, content, and updates on your company. No one expects that you are hand-typing each of these items, so just sending prompt, valuable email content can reach more customers.
2. They allow you to spend more time on your most qualified leads
Of course, the magic of email automation tool can dazzle people too much at times.
The whole benefit of the email marketing automation strategy is that these emails free up your team for more one-on-one contact with customers and faster response times to complaints, queries, and needs.
Rather than aiming to automate everything, aim to automate the least personalised parts of the sales process. The autoresponders do the boring work, but their reach and ROI is also dependent on someone quickly taking into account whatever the customers and leads send in response.
3. They provide feedback and analytics for future contact
Your email autoresponders won't be perfect the first time, but using advanced tools within your website and email campaign software allows you to notice which kinds of emails create the most opens, clicks, and deeper engagement, like purchases.
hen you discover what works best for your unique business, you can experiment with new options that work for your clients.
In addition, more feedback - like survey results, emails, and comments on social media - gives you valuable information for future directions in your company.
Taking these pieces of information seriously is a good idea; people pay thousands of dollars to get excellent feedback information, and this information comes to you as part of the package with autoresponder software!
Key Takeaways
As you begin your process of creating autoresponder emails, keep these main takeaways in mind:
Autoresponder emails are emails that are triggered by your lead or customer making a choice or doing an action.
Crafting brand-specific, content-rich emails will create brand loyalty.
Autoresponders are a valuable way to keep prospects interested and customers in the loop about their purchases.
Innovating with your autoresponder emails in response to the engagement they get is key to moving forward and seeing results.
Most importantly, autoresponder emails are a tool to maximize your time responding to the interested leads who engage with them. They cannot do the important work of engaging your customers one-on-one, which you can uniquely provide as a company.
Want to learn more about autoresponder emails and get started with your own campaigns using Enginemailer free autoresponder service? Contact us to learn more about what Enginemailer can do for you to save you time, energy, and money!