Reports have shown email marketing to have an average ROI of up to 4200%. More and more businesses are starting to realise the effectiveness of marketing through electronic mail. As per a recent report, 81% of SMBs use emails as their primary customer acquisition channel, and 80% of SMBs use emails as the main channel for retention.
Source: https://www.pexels.com/photo/email-blocks-on-gray-surface-1591062/
Despite these numbers, many companies are still unsure about transactional emails and can't use them in the right way.
In this article, we will discuss what transactional emails are, their types, and how you can create the best transactional emails.
What is a Transactional Email?
A transactional email facilitates a transaction that has been requested by a user or a customer. A seller sends these mails to inform that they have addressed the demand of the buyer.
For example, an invoice receipt, or an email saying that the password reset has been done successfully.
In many cases, such messages are sent because the user has triggered it by an interaction with the app or the website. Furthermore, they are mostly automated, meaning that they have been created beforehand, and programmed to be sent when a user takes a specific action.
For example, when you request to change a password in a website, you get a set of instructions in your inbox from the site's software system. The email had already been created before you decided to change your passcode and the mail was triggered when you attempted to change the password.
Main Goals of Sending Transactional Emails
These are the things that you would want to accomplish with your transaction emails:
1. Let your customers know about the status of the transaction
According to a study, 64% of customers consider transaction information the most important thing in their inbox. Transactional emails help you notify your customers that the process they started has completed so that they can rest assured—for example, an order or a delivery confirmation.
2. Help customers during important stages of the sales funnel
These emails also consist of information that helps customers during the critical parts of the sales funnel. For example, say you delivered a product a customer asked but sending it to their home address was not possible. You can embed a map guiding them to the delivery address from their current location in the delivery confirmation email.
3. More sales opportunity
The correct use of transactional Emails can boost revenue by 33%.
Transactional emails can mostly help with cross-selling and up-selling. Cross-selling means recommending a product to the user which is similar to the one they recently bought. It could also mean selling an additional item that the customer may need with the product. For example, if someone buys a television from you, you could also suggest a television rack from your collection.
On the other hand, up-selling refers to recommending a better product than the one the customer has. For example, an antivirus company can suggest you buy a better plan than the one you have right now with more features and customer support.
4. Brand Recognition
People appreciate transaction emails a lot, and when you send them that, it creates a positive response in their conscience.
Furthermore, transaction emails have 8X more click and open rates than other types of emails
Your transactional emails will have brand representation in one way or another. This could be in the form of Name, Logo, Typography etc. As these emails have a higher open and engagement rate, recipients will recognise your brand more.
FAQ: Do transactional emails need an Unsubscribe Button?
No, transactional emails don't need an unsubscribe button, as you are sending them with your customer's consent.
What is the difference between transactional email and a marketing email?
A transactional email helps a customer complete a transaction, or tells them that the process they started with the company has been completed—for example, legal update emails, invoice, delivery confirmation emails, etc.
On the other hand, a marketing email guides a user through the sales funnel. It is promotional; the main motive being to advertise and sell your product—for example, newsletters offers, product descriptions, etc.
What are the types of transactional emails?
Following are the most important types of transactional emails that you should know about:
A. Welcome Email
Welcome emails are simply as the name suggests. They welcome a person who has recently bought from you or has signed up for your service.
According to an Invesp study, welcome emails have an average open rate of 50%, making it 86% more effective than standard newsletters. Furthermore, users who receive a welcome email show 33% more engagement with the brand than the ones who don't.
Welcome emails set the tone- you can thank the user for registering, and also write what they can expect from you in the coming days.
Source: https://blog.hubspot.com/hubfs/virgin-america-welcome-email.png
A great example of Welcome email from Virgin America, airlines. They thanked the customer, told them what to expect, and also promoted their service.
B. Cart Abandonment Email
The Global Cart Abandonment rate was 77.83% in 2019. It is a big challenge for ecommerce websites.
However, a cart abandonment email can be the answer for most of the companies. Generally, users open about 50% of cart abandonment emails, among which 21% receive click-throughs. From the people who click, around 50% make the purchase.
Source: https://blog.hubspot.com/hs-fs/hubfs/The 15 Best Abandoned Cart Emails To Win Back Customers-12.jpeg?width=600&name=The 15 Best Abandoned Cart Emails To Win Back Customers-12.jpeg
Cart abandonment emails don't have to be bland. The funny content in this email engages the user.
C. Order Confirmation Email
Order Confirmation email tells a customer that their purchase has been successful. It can also consist of shipping information and a receipt.
Order confirmation emails can achieve an open rate of up to 80% to 90% depending on the industry . So, they can be a great way for you to cross-sell and up-sell your products.
Some vendors can embed an offer with the order confirmation email.
Source: https://i.pinimg.com/originals/1a/e7/05/1ae7051fb495accd775af7dc3551d85f.jpg
In this order confirmation email of a book, Amazon is trying to cross-sell some similar products.
D. Shipping Confirmation Email
A shipping confirmation email tells a customer that their product has been dispatched, giving them a peace of mind.
At the same time, similar to order confirmation emails, delivery confirmation emails can also be a platform for you to advertise your product, without being too pushy. You can list related items that the buyer can be interested in.
Some shipping confirmation emails can also consist of a tracking ID, telling customers the location status of the item.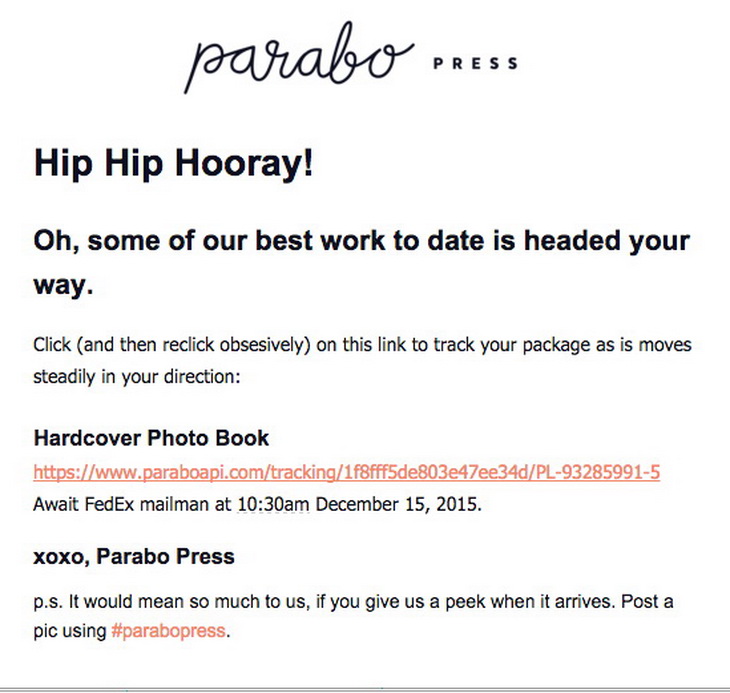 Source: https://i.pinimg.com/originals/e8/ba/7a/e8ba7a7381d07be2bb72fff00719ba5c.png
Here's a clever implementation of a shipping confirmation email. It asks the recipient to share their product on social media with the tag of the company.
E. Delivery Confirmation Emails
A delivery confirmation email informs the recipient that the item has reached their desired location, and they can contact you if they haven't received it yet. It may also consist of a tracking ID.
Source: https://support.goshippo.com/hc/article_attachments/360024843912/Screen_Shot_2019-03-27_at_5.19.31_PM.png
A delivery confirmation email with a tracking id.
F. Password Resets
A password reset email sends users a link they can access to change their password. It also ensures that an authorised person made the reset request.
Source: https://i.pinimg.com/originals/39/b4/35/39b4354bae03512b6457fa9a3bc845dd.png
See, the email is simple, but the company has links to its social media? Password Reset emails are not for any product recommendations, but Vervewine has tried to make the best out of their email.
G. Double opt-in email
A double opt-in email is to ensure that the user has signed up for your email marketing list with a valid email.
You see, if someone signs up into your email list with a fake ID and you send them emails, it will hurt your sender's reputation, because the email will never be opened.
You can send a simple message asking the subscriber if they want to receive your mails. In many cases, companies combine a double opt-in email with the Welcome Mail.
Source: https://www.spcdn.org/images/double-opt-in-sock-drawer.jpg
H. Legal Update Email
A legal update email tells the recipient about changes in the legal status of the company. This may include an updated Privacy Policy, Terms of Use, etc.
Source: https://www.termsfeed.com/public/uploads/2014/11/appannie-email-terms-service-privacy-policy-updates.jpg
Transactional Email Best Practices
You should keep these things in mind when creating transactional emails:
Separate transactional emails from marketing email
Remember how we said you don't need to put an unsubscribe button in a transactional email? Well, you need to do it in a marketing email, and if you don't, you may get in troubles with the
law.
The CAN-SPAM Act governs the sending and receiving commercial emails on the internet. They have seven main guidelines, and if you happen to not adhere to any of them with your email marketing material, you may be liable for legal penalties.
Thus, ensure that your email's primary purpose is to complete a user's request and not to market your product.
Use different infrastructures for transactional and marketing emails
These days, email service providers monitor the sender's reputation before ruling on whether their messages should go to people's inbox or into the spam folder.
Things such as email delivery and open rates, conversion rates, spam reports, etc. are taken as bases to provide the sender with a reputation score.
Now, if your marketing emails are not as effective as you want them to be, the bad reputation can hurt your emails as well.
Gmail recommends separating transactional and marketing emails by the following methods:
By sending emails from different email addresses.
By sending emails from different IP addresses or domain names.
Personalise with your transactional email
Personalisation means creating something to fulfil and an individual's personal needs.
Personalised emails stand out as more relevant in a person's inbox than a generic one.
Thus, they yield higher clicks. Studies show personalised emails deliver six times more transactional rates.
You can start by personalising the subject line by using the Name of the recipient.
For the message itself, you can personalise it by using Dynamic Content. Dynamic content is a content which has been prewritten, but at the same time, some values can be filled in, for example, Name, which will make the email seem it has been tailored for a single person.
Don't do things that could land your email into people's spam folders.
Transactional emails are very important to your recipients; it will be a problem if it goes into their spam folder instead of inbox. Here are some things you can do to ensure they go to the right place:
The "From", "To", and "Reply-To" information in your email address header should be right.
Don't use deceptive subject lines. As you are sending transactional email, don't use promotional subject lines either. Here is a free subject line spam checker that will grade how likely your email is going to be flagged because of your subject line.
People replying to your email is a positive sign for ESPs that you are not spamming. Thus, avoid using No Reply Email Addresses.
Don't use an IP address that has been blacklisted for Spam before. Well, you can ask the ESP to whitelist your IP address if they have previously wrongly accused you of using spam messages. Here is the official link for the form you need to fill to whitelist your IP address in Gmail.
Optimize emails for mobile phones
In 2018 already, about 46% of emails that were opened happened on mobile devices. Furthermore, 35% of business professionals use a mobile phone to read their emails. https://www.convinceandconvert.com/convince-convert/15-email-statistics-that-are-shaping-the-future/
71.6% of consumers will delete an email if it doesn't look good on a mobile device . Well, transactional emails may not be deleted as much as promotional ones, but for 26.6% recipients prefer receiving an email that fits well on their screen
Here are some ways you can optimise your emails for mobile devices:
Use buttons instead of links. They are bigger and easier to tap on mobile phones.
Optimise your images- you don't need ultra-high-quality phones. By a rule of thumb, images of 640 by 320 pixels look great full size on most mobile devices, so you can work accordingly depending on the length of your email.
Avoid chunks of text. They will confuse the user when they try to read on a smaller screen—break lines after one or two sentences. Moreover, make your email short and sweet.
Typically, a mobile device shows between 25 to 30 characters in the email subject line. A desktop can accommodate 60 characters; so, your subject line should be more concise in mobile phones.
Some mobile devices may not load an image by default. Some people may be accessing emails on light-weight web browsers without using images. Make sure that your email looks good even when not accompanied by an image.
https://cdn.dribbble.com/users/1244912/screenshots/8323157/emails_4x.jpg the mobile version of the email (right) has less text and is more concise than that on desktop (left).
Conclusion: Transactional emails tell a user that their request has been processed. It is a message triggered because of an action the recipient took in your website or app.
You should treat your marketing and transactional emails separately- they have different 'literal' and 'legal' meanings to them. Still, transactional emails are opened more frequently and have a better chance for conversion, so you should be clever enough to leverage them for sales.
Contact us if you have any inquiries regarding the above information.